Planning Tips for the Savvy Summer Traveler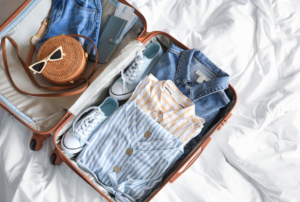 As summer begins, we start envisioning taking time off.  You figure, I've worked hard, and feel I deserve to enjoy a fabulous vacation! Because rest and time away is an important part of self-care. As you start planning, it's not too late to book the ultimate trip this summer — especially if you follow a few key recommendations. The below strategies and suggestions can help you plan a safe, enjoyable, and affordable vacation during the summer season. Heed the below tips, and you'll be basking on the beach (or exploring another country) in no time!
Simple Travel Rules of Thumb
Book your flights and hotels as early as possible. It's no surprise that summer is a peak travel season, and the demand for flights and accommodations can be high. Booking ahead of time can help you secure lower fares, better seats, and more options. You can also use tools like Google Flights or Skyscanner to compare prices and track deals.
Be flexible with your dates and destinations. If you can avoid traveling on weekends, holidays, or other popular dates, you may find cheaper and less crowded flights and hotels. You can also consider alternative destinations that offer similar experiences but may be less expensive or less visited. For example, instead of Paris, you could try off-the-beaten-path places in Europe such as Lisbon or Prague.
Check the travel restrictions and requirements of your destination. Due to the COVID-19 pandemic, some countries may have entry bans, quarantine rules, testing protocols, or require vaccination certificates for travelers. Be sure to check the official websites of your destination country and your airline before booking and traveling to avoid any surprises or delays.
Pack light and smart. Traveling with a carry-on bag can save you time and money when it comes to baggage fees and the check-in process. Consider versatile clothing that can be mixed and matched for different occasions and weather conditions. Don't forget to pack essentials like sunscreen, sunglasses, hats, face masks, hand sanitizer, and a reusable water bottle.
Explore beyond the tourist attractions. Summer is a great time to discover the local culture, cuisine, and nature of your destination. Visit unique spots beloved by locals, join walking or biking tours, try local dishes, or peruse any cultural events or festivals that might be happening. You can also support local businesses and communities by shopping at markets, staying at guesthouses, or volunteering.
Set aside a separate savings account just for your vacation. By putting a little money into a savings account throughout the year, you can accumulate a nice chunk of change. You can also use tools like SoFi Checking and Savings or Varo to earn high interest rates, cash-back rewards, round-ups, and savings buckets for your vacation fund.
Travel Apps & Websites We Love
Convenient smartphone apps and websites that you can use to plan your travel and save money are aplenty. These online tools can easily help you research, book, manage, and enjoy your trip while keeping your budget under control. A few of our favorites worth bookmarking or downloading are:
Google Flights. Google Flights is a powerful search engine tool that helps you find the cheapest flights, hotels, and car rentals. You can compare prices, track deals, set alerts, and explore destinations using the map feature.
Hopper. The app Hopper helps you book flights, hotels, and car rentals at the best prices. It also offers price prediction technology, travel protection options, and a price freeze feature to help you lock in the lowest possible price.
PocketGuard. A beloved budgeting app is PocketGuard, which helps you track your spending, set financial goals, and save money. You can link all your accounts and cards to this app, and it will automatically update and categorize your spending in real time. You can also use it to plan for future travel as a reward.
TripIt. TripIt is a travel organizer app that helps you manage your itinerary, reservations, confirmations, and documents all in one place. You can forward your booking emails to this app, and it will create a master itinerary for you. You can also access your itinerary offline, share it with fellow travelers, and get alerts for any changes or delays.
Google Maps. Always know where you stand (literally) with Google Maps. This popular navigation app helps you get around your destination with ease. You can use it to find directions, public transportation options, traffic information, nearby attractions, restaurants, shops, and more. You can also download maps offline, create custom lists of places, and use the street view feature to explore virtually.
Rome2Rio. Rome2Rio is a transportation app that helps you find the best way to get from point A to point B anywhere in the world. You can use it to compare prices and travel times for flights, trains, buses, ferries, rideshares, and more. You can also book tickets directly through the app or its partners.
Splitwise. Splitwise is a bill-splitting app that helps you share expenses with your travel companions easily and fairly. You can use it to keep track of who owes who what, settle debts via PayPal or Venmo, and convert currencies automatically.
No matter where your summer plans take you, may you have a safe and enjoyable time, making the most unforgettable memories and savoring the moments of relaxation.
Black Woman Finance Blogger
,
Black Woman Finance Expert
,
black woman financial advisor
,
Black Woman Financial Planner
,
Family Trip
,
Rest and Relaxation
,
Self-Care
,
Summer Vacation
,
Travel Tips
,
Vacation
,
Vacation Plans