Money & Power:  Zaneilia Harris Confirmed Speaker at the Essence Festival
Women are making strides, they earn 60% of undergraduate and graduate degrees, handle 80% of consumer spending and control over $14 Trillion in personal wealth.  40% of women are the breadwinners in their households but more than 50% of African American women are the primary breadwinners.  Some of these women may be considered HENRY's – high earners not rich yet.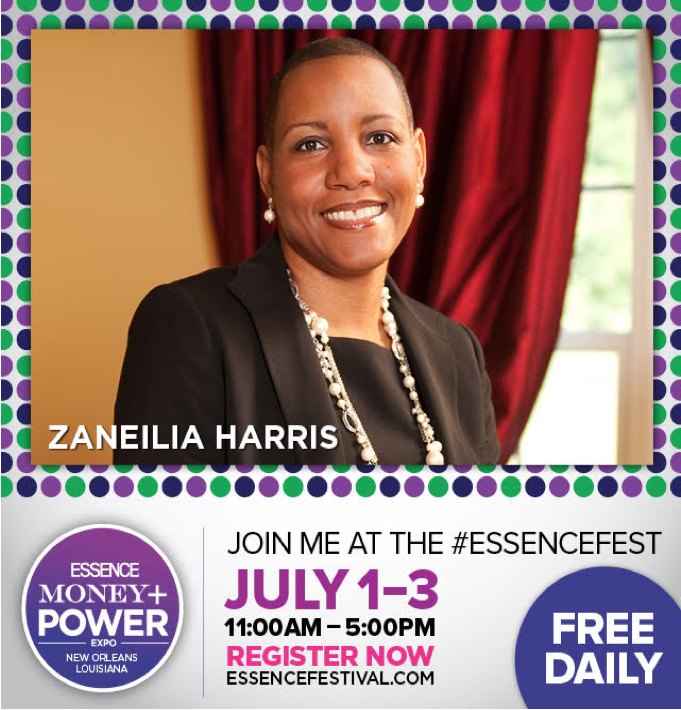 That's why Zaneilia Harris, President of Harris & Harris Wealth Management, is teaming with Essence to share information that's key to financial success at the upcoming first annual Essence Festival Money & Power Expo.  With women recognizing their responsibilities as breadwinners, there's a heighten focus on gaining knowledge and creating wealth to combat the negativities surrounding women and money.
In her book, Finance 'n Stilettos:  Money Matters for the Well Heeled Woman, she reveals that there are opportunities that informed investing can create, such as portfolio growth, hedging strategies, legacy protection and impact and angel investing.  She wants women to feel the empowerment that comes from being an authority over their own finances."
"I feel with the changing financial status of women in America, there's a need to provide and be a resource to them as they go through life changes.  I aim to empower women while highlighting the difference between simply having money in the bank and building wealth," said Harris. "My intention is to make all the moving parts of finance easier to understand, translate industry jargon and relate the un-sexiness of money management to the stylishness of something we all love: shoes."
Harris is a member of the CNBC Financial Advisor Council, a financial educator, blogger, and Certified Financial Planner™ who is passionate about increasing financial education and sharing her expertise among other women so they can become financially savvy.
"No matter where you are in life, you can make positive changes that can change your financial future."
Harris' expertise covers more than 20 years in the industry with companies including Merrill Lynch, Edward Jones Investments, PricewaterhouseCoopers and The NASDAQ Stock Market.
Essence Money & Power Expo:
The Essence Money & Power Expo empowers YOU to create a financial road map for wealth creation.  Our Masterclasses and Bootcamps equip you with all the advice you need to successfully transition to become your own boss, build a business, break the corporate glass ceiling, and learn how to downsize debt.  Whether you want to become a sharper professional or start and grow your own business, the Money & Power expo is your destination to fully realize your potential.
For more details:  www.essence.com/expos
About Harris and Harris Wealth Management Group:
Harris and Harris Wealth Management Group is a boutique financial advisory firm focused on educating and supporting professional women and the community to build and transfer wealth. Operating under the belief that in order to impact a community, you must first empower women, the firm's goal is to help clients achieve financial success by guiding them through major life-changing events such as marriage, divorce, widowhood, career transition and the selling of a business.
#ESSENCEFEST
,
Essence Festival
,
Essence Magazine
,
MONEY + POWER