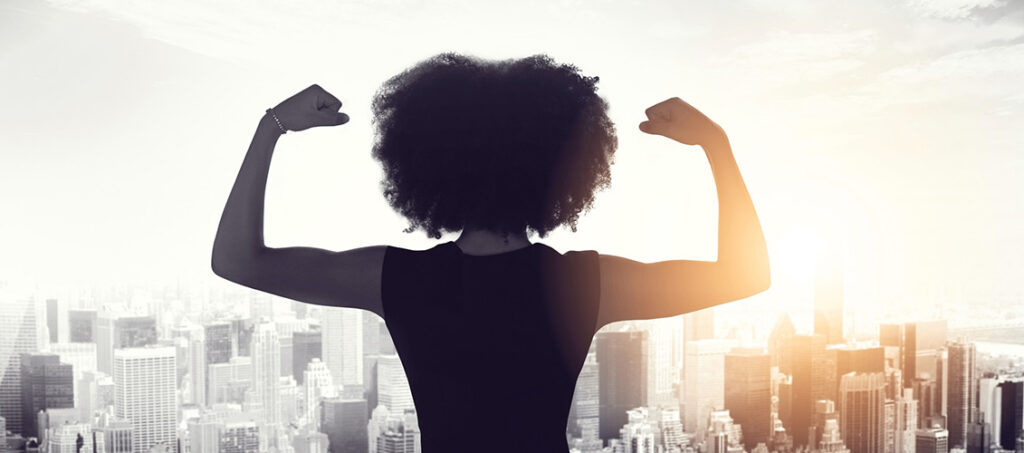 5 Financial Success Tips for Black Women
The belief that perception is reality has become ubiquitous in our culture. But, the question remains whether that claim is true. In many ways, it doesn't matter when it comes to achieving financial success because this is an area where reality matters more than perception. According to the 2019 Survey of Consumer Finances, Black families' median wealth is $24,100. It has some wondering how do we close the racial wealth gap?
There are systemic reasons behind this number. It's not that Black families don't save, don't work hard, don't monitor spending, and don't invest for the future. The reality is that as a whole, Black professionals have more student loan debt, with higher interest rates, earn less and thus are not able to save as much. This perception is reality. These differences matter long term when it comes to Black families building wealth. However, the systemic realities can't stymie the efforts to solidify your financial future.
Let me clarify that: In my world as a financial planner and wealth management expert, we focus on financial success tips for Black women because there are nuances of our reality that is quite different than those of white Americans. Our focus as a firm is to be a solution. We want to be the change we seek.
Put simply, in the real world, it is impossible to perceive, imagine, or wish yourself into being wealthy. That requires work, effort, ample compensation, saving, and investing successfully. All of these things must work in tandem with one another. Unless you are the beneficiary of a large inheritance, these facts are the foundation of growing and managing wealth and achieving financial success. This perception is reality!
5 Tips for Finding Financial Success
• Success Tip #1: Negotiate – The best negotiators know exactly what they want. The terms of the negotiation are based on doing research of the position, talking to those who have worked in the position, and understanding the salary range and position requirements. Ask open ended question and pay attention to the answers. Allow the organization to make the offer knowing that you plan to counter-offer. Never talk yourself into a weaker position. And, finally, learn to stop negotiating and say "Yes!" when you receive what you want!
• Success Tip #2: Ask for Equity Opportunities – As part of your compensation package, stock options should be on the table. Ask for it. Workplace wealth is built on owning equity in a growing financially stable company and other executive benefits.
• Success Tip #3: Increase Savings Percentage – Increase your percentage of savings with each cost-of-living increase, promotion, and bonus. There is not thought about whether it fits in the budget. You can't miss what you haven't received. Thus, making it easier to build your savings and grow your retirement nest egg.
• Success Tip #4: Maximize Your Retirement Fund – Whether you choose a 401(k) offered by an employer, SEP (Simplified Employee Pension) IRA (Individual Retirement Account), if a business owner, a traditional IRA or Roth IRA that you established on your own, or in some combination, these types of retirement accounts can help ensure that you'll have enough money to live on in your golden years. The earnings accumulate tax-free until distributions start. However, you have to be older than age 59 ½ to start taking penalty-free withdrawals. This doesn't apply to the Roth IRA, which has some unique nuances to it. With an employer sponsored plan, at minimum, you always want to ensure you contribute up to the employer match. This is free money you don't want to leave on the table.
• Success Tip #5: Consider Roth Conversions and 401(k) Roth Contributions – Beyond setting up a Roth IRA as mentioned above, there should be consideration of Roth conversions. While it can create an upfront taxable event; once complete, the money grows and is distributed tax-free. With Roth contributions, there needs to be a balance between the tax reduction now and tax-free later. Traditional contributions into a 401(k) reduces the amount of your salary taxed. With Roth contributions, this isn't the case. The importance of these options is to create different savings buckets you take distributions from in retirement. Such opportunities need to be evaluated with the help of your financial adviser to determine the best options for you and your situation.
Why We Work with Successful African American Women
If you were a new client coming to us, we would first take a holistic view of your life and offer suggestions to help you make the best decisions possible for managing and growing your wealth. These suggestions are based on objective, reality-based factors rather than simplistic suggestions founded in perception.
We focus on women who've been ignored and/or devalued because of their color and gender. Women who want to optimize their finances, because they know they need guidance. Women who are overcoming their trust issues to seek professional advice. Women who are at a stage in their life where they're earning more than they ever have, are making major career moves, or are considering plans for retirement. These life transitions may have you seeking counsel to assess your goals and evaluate your path to financial success. That's why we are here to help.
The fact that we specialize in working with African American women reflects who we are and our purpose with wanting to help you achieve your financial goals. This was a conscious decision to fill a void we perceived existed in the wealth management industry for successful Black women.
Our mission is just that simple.
If anything in this article on financial success tips resonates with you and you need to add another smart woman to your team, don't hesitate to reach out to schedule your 20-minute exploratory meeting.
---
Click here to start the conversation with Harris & Harris Wealth Management.
---
Don't Forget to Spread the Word!
Zaneilia Harris, CFP®, is the President of Harris & Harris Wealth Management Group in Washington, DC. Follow her on Twitter at @hhwealth.
Black CFP
,
Black Financial Advisor
,
black woman financial advisor
,
Executive Black Women
,
Executive Women
,
financial planning for African American women
,
full-service wealth management
,
objective financial planning
,
race and financial plans
,
What is Financial Planning
,
Zaneilia Harris financial planner