Organize your Finances
Linking your life goals to your financial goals is the essence of financial planning.  It is the approach by which I learn and understand my clients personal objectives, determine their business and personal financial resources, understand their goals in life and most importantly, their personal feelings about money, investing and saving. From these intimate discussions, I craft a detailed financial plan that shows them what they need to do to fund their life goals.

Compensation Packages
It's our goal to create a long-term relationship with you to help you through all the stages of your financial life!
Initial Financial Strategy $250
Per session
90 Minute one-on-one session with a CERTIFIED FINANCIAL PLANNER™
A quick assessment of your current financial situation
A discussion of your most pressing financial question
Detailed meeting summary of the session
An action step that you can take to maximize your current situation
Company Retirement Plan Management $300
Annually
Initial Review of current 401(k), TSP, 403b or employer's retirement account
15 – minute calls every 6 months
Review of 401(k) allocation
Personalized 401(k) Recommendations
Assistance with 401(k) Implementation
Finance 'n Stilettos Community Membership $99
Monthly fee
Participation in private 30-45 minute quarterly group webinar sessions
Copy of Book
Invitation to 1 Private Event
Participation in 401(k) allocation program
Email access to answer questions
Initial 30 minute 1 on 1 call (Annually afterwards)
1 action step you can use now towards your current financial situation
Financial Strategy Program $3000
Annually (Can be Billed at $250 Monthly)
A financial plan with a series of "To Dos" that includes a net worth statement, retirement projection, and action checklist.
The financial plan includes recommendations in the following areas: cash flow planning, debt repayment, investments, retirement planning, insurance, estate planning and tax planning.
Company Retirement Plan Management – An asset allocation on your 401(k) or work retirement account(s) is included as part of this service.
Investment ManagementPrice based on Assets Under Management
We manage Small Company 401(k)s, SOLO 401(k)s, SIMPLE and SEP IRAs, 401(k)/403B rollovers, individual/joint brokerage and trust accounts.
90-minute Initial Financial Strategy session – (Fee NOT Included, billed separately)
60 minute Plan Recommendation Meeting to go through the investment recommendations.
30 minute follow-up meeting every 3 months to check your progress.
60 minute annual meeting to review your yearly progress.
A CFP® who you can reach out to via email as your situation changes.
Access to other financial professionals to be on your team to help you implement your recommendations.
Ongoing investment advice for the portfolio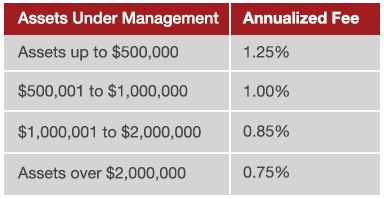 For clients with $500,000 or more in assets under management, ongoing financial planning will be included in the investment management fee.